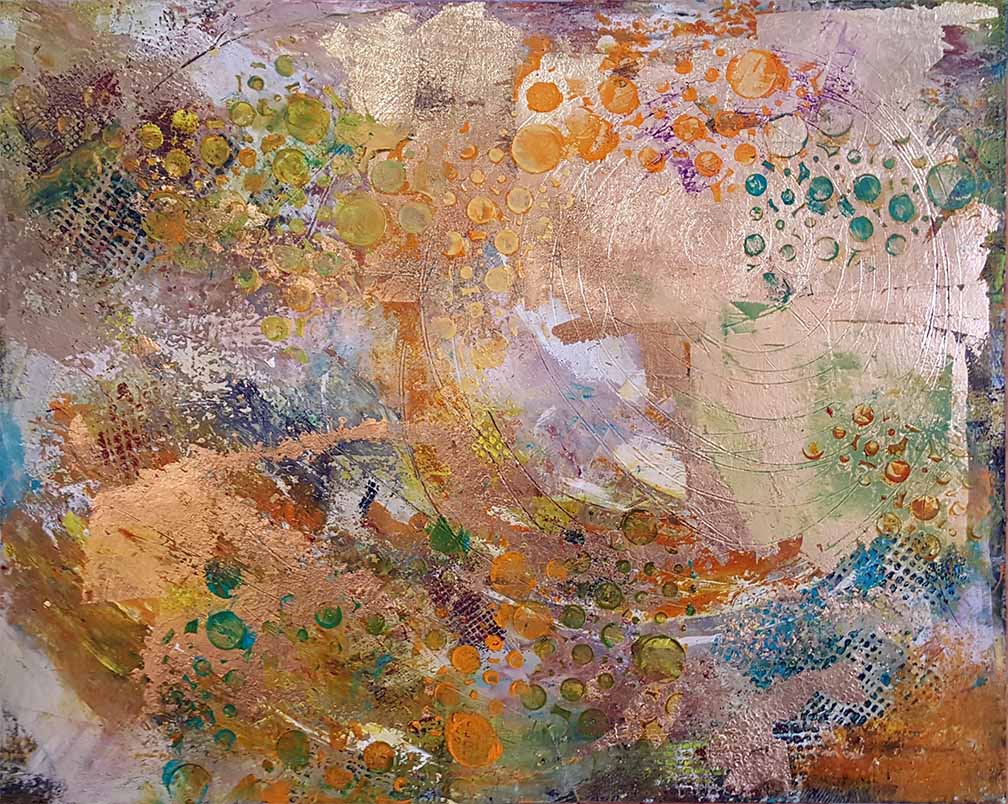 Holiday Recap:
From Thanksgiving through mid-January things were so busy.  I met lots of interesting people at the Granville Gallery, Art @ 43023, and at 400 West Rich. People often said nice things about my art and sometimes, bought one or more pieces.  Suddenly, in mid-January, I realized that many of the pieces I had made in 2018, especially the larger ones, had found new homes and my walls were looking sparse.  It was clearly time to focus on painting.
A Dry Spell:
I love being in the studio.  I come in with some idea of what I want to paint or some color I want to experience.  Sometimes, it's almost as if the painting paints itself; as if someone steps into my body and suddenly creation happens. For two weeks in January, that was not the case.  I read art books, watched some videos, studied some techniques, talked to other artists. I hung my WIPs (Works in Progress) on my walls and sat on my couch in my studio, drinking coffee as I looked at them. 
Lothlórien, the painting below, in the middle, was of special interest.  It's been almost complete since last spring.  Fellow artists had suggested it was 'done' but it didn't quite feel like it to me and then I realized I wanted to incorporate gold leaf.  I looked at some more websites and more work by other artists and finally, I started painting. Flight From the Dark, below on the left, and Embracing the Light, shown above are, like Lothlórien, oil and cold wax.  The Grand Adventure, below on the right is an encaustic monotype. I am so excited. And yes, I know who Gustav Klimt is. I like his work very much as I do his younger contemporary Egon Schiele. Inspired by but not copying, as I like to say.  The dry spell is over.